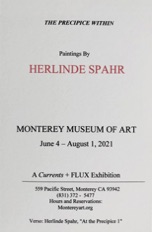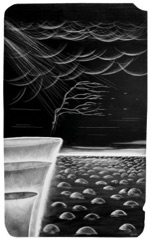 Featured Artist in PHOEBE, May 2021
Featured Artist in AQUIFER. > Herlinde Spahr: Through a Landscape of Carbon. The Florida Review Online, published by the University of Central Florida. Work selected by Lisa Roney, chief editor. Online on November 23rd, 2020.
California Society of Printmakers. Piedmont Art Center. Cancelled due to Coronavirus. Now rescheduled for November 14 to December 5th, 2020.
Kala Fundraising Auction. Gala rescheduled for June 27, 2020 6-9 pm. Auction proceeding online. Donated print: The Artist's Proof.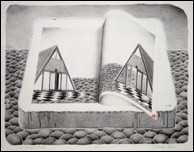 CREATING IMPRESSIONS. Prints from the Collection of David Kabakoff.
Kala Institute Berkeley. December 5, 2019 to January 25, 2020.
"Exploring the lives and processes of printmakers from the 16th century to the present." Collector's Talk: January 16 at 7PM at Kala Institute.
Herlinde Spahr. The Artist's Proof. Stone Lithograph. 1986
The Turner Print Museum at the California State University of Chico has added the complete suite of ,LYING AWAKE seven stone lithographs, to their permanenet collection, as well the first pencil sketch for the series.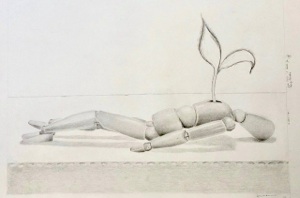 Lying Awake. First Night. Preliminary sketch
REGIONAL COLLECTIVE. Turner Print Museum. California State University Chico. March 11 to April 12, 2019. Curated by Leslie Jones, Curator of Prints and Drawings at the Los Angeles Museum of Art. Juror's talk and reception: March 28. Zing Recital Hall.
PUBLICATION OF MY SECOND BOOK.
May 12, 2018.
LYING AWAKE.Work from 2000 to 2017. With Excerpts from the Artist's Notebooks.Lithium Press, Orinda 2018.
The book covers the spectrum from traditional stone lithography to more radical interpretations of the medium: sculptural facsimiles of the stone cast in wax, and hybrid works on Formica with the scarring levigator used as an engraving tool.
Included in full are the following work cycles: Nightwork, Spiracle, Pitch, Lying Awake, Soot and Soul.
Following the format of Open Studio and Fulgurite, I have included a generous selection of excerpts from my notebooks. They capture the moments of steep and deep that the artist experiences behind the closed doors of the studio.
Hardcover, softcover and eBook. > More information
The Achenbach Foundation for Graphic Arts at the Legion of Honor (Fine Arts Museums of San Francisco) has given my book, LYING AWAKE, a special recommendation for their membership. August 8, 2018
Points of Departure. Bridge Storage and ART space. Richmond CA. May 7-25, 2018.
Shown: Pitch XVII. Review.
California Society of Printmakers. 104th Exhibition. Piedmont Center for the Arts. September 4 to October 1, 2017. Piedmont, CA
Beneath the Surface. Davis Art Center, January 13 - January 27, 2-17, Davis CA.
Mirrorred Images. Pacific Grove Art Center. January 6 - February 23, 2017. Pacific Grove CA.
Dreams and the Imagination. Merced College Art Gallery. September 26 - October 20, 2016
Sustenance: Food/Life/Art. at The Turner Print Museum. Chico State University, Chico, CA. Shown: the stone lithograph "Silk and Stone 1." Till April 9, 2016 .
Tenth Annual Arts Merced Printmaking Show. Merced Multicultural Art Center. April 12 to June 14, 2016. Artist Reception April 12, 2016. Shown: the stone lithograph "Perilous Crossing."
The Bancroft Library for Rare Books and Manuscripts at UC Berkeley will house and make available to the public my correspondence with long-time friend, Roy Ragle, master woodcut artist. The correspondence consists of more than 500 handwritten letters with original art and studio proofs spanning almost three decades, from 1987 to three days before Roy's death on December 11, 2014
Stone Lithography and
Print-Paintings on Formica
Studio Visit by members of the Achenbach Foundation for the Graphic Arts, Palace of the Legion of Honor, SF,
May 16, 2015
The stone lithograph, Lying Awake. Second Night, will be included in the second part of the exhbition: Prints. CA, LA and Beyond at the Gray Loft Gallery in Oakland, CA
HERLINDE SPAHR: Print-Painting on Formica. Studio Visit and CSP Brown Bag Demo. October 25, 2014 at 11AM.
PERILOUS CROSSING, Stone Lithograph (see below). Featured in Art in Print, IV, Nr. 3. 2014
ART AUCTION to benefit the Coalition on Homelesness. SOMARTS Cultural Center, September 11, 2014, San Francisco, CA 94103
Herlinde Spahr
Perilous Crossing, Stone Lithograph, 2014. 10" x 7" image
REDEFINING THE MULTIPLE.
Gary Francis Fine Art, Alameda, CA
Exhibition: July 10 - August 3, 2014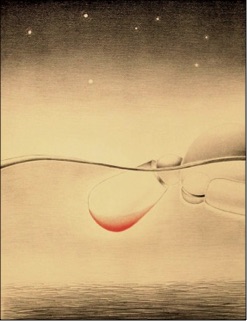 Lying Awake. Third Night.
Selected for the Collection of the Library of Congress in the context of the Centennial Celebration of the California Society of Printmakers.
Lying Awake. Third Night.
Reproduced in the book California Society of Printmakers. One Hundred Years. 1913-2013. (Maryly Snow and Sylvia Solochek Walters eds.)
> See all seven lithographs in Lying Awake
Studio visit and demonstration, 5-9-2014
Olli @Berkeley. Osher Lifelong Learning Institute
Appreciating Prints and Printmaking. Class visit Spring 2014
"In this class we will have a conversation with artist and printmaker Herlinde Spahr in her own print shop. The artist will give us a demonstration of lithography and discuss her own fascinating work. Opportunities to observe a print in progresss and ask questions about process, artist's background, inspiration, and the future of lithogaphy, prints and printmaking from the artist's point of view." Organized by Sylvia Walters
ONE HUNDRED YEARS IN PRINT: CALIFORNIA SOCIETY OF PRINTMAKERS CENTENNIAL CELEBRATION, San Francisco Center for the Book, SF. Reception: 6:30PM to 8:30PM. Thursday, October 7, 2013
TEN DECADES. SELECTION OF PRINTS COVERING 100 YEARS OF PRINTMAKING IN CALIFORNIA.  CSP Centennial.
    Commonwealth Club of California, San Franciso.
    October 21 to january 9, 2014
    Opening Monday, October 21, 2PM to 4:30PM
    595 Market  Street, 2nd Floor. San Francisco.
Arranged decade by decade, this retrospective provides a visual journey through the history of printmaking in California since 1913. Historical works from the California Society of Printmakers archives will be featured, focusing on the vision of each decade and its relationship to the visual art trends and concepts of the time period. CSP is the oldest continuously operating association of printmakers in the U.S.
CELEBRATING 100 YEARS OF THE
CALIFORNIA SOCIETY OF PRINTMAKERS Artists Presentation at the Harrington Gallery, Pleasanton. Sept. 3 at 7PM, 2014
Featured Speakers:
Sylvia Solocheck Walters and Herlinde Spahr
Exhibition at Sacramento State University Union Gallery
Lying Awake. First Night featured on the invitation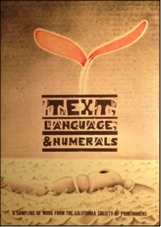 California Society of Printmakers 100th Anniversary: "Our Universe" at the Harrington Gallery, Curated by Julie Finnegan
Firehouse Art Center Pleasanton Art Center
July 20 - September 4, 2013 Opening: August 1st, 7 to 9 PM
California Centered: Printmaking Exhibition Seventh Annual
Merced Multicultural Art Center
April 19 - July 2, 2013 Opening: April 19th, 5:30PM - 7PM
Curator: Eileen Macdonald, Associate Professor of Art at California State University, Chico
Works shown: two stone lithographs from the seseries Lying Awake
Lying Awake. Fourth Night and Lying Awake. Seventh Nigh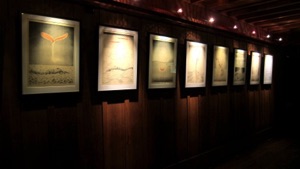 Series of Lying Awake installed
LYING AWAKE
Finished April 2012, Lying Awake is a series of seven stone lithographs. With my lithographic stones seemingly becoming heavier each year, I picked my largest and favorite stone in the studio for a new project. As happens so often, the first image immediately summoned siblings and the single lithograph blossomed into a series of seven prints following the same format. Upon finishing the series, I had the opportunity to show the work at the Faculty Club Gallery at UC Berkeley. Thirty years had passed since I had discovered some lithographic stones and a press in a student union studio on campus. The exhibition was a sweet way of closing the loop.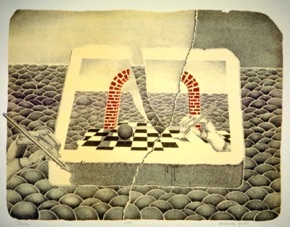 THE LIBRARY OF CONGRESS, Division of Prints and Photographs, has added the lithograph DESIRE to its collection. The print received the Juror's Commendation and Purchase Prize Award at the Boston Printmakers'competition in 1986, awarded by Andrew Stasik.
"Desire" was also chosen by David Acton for his book "60 years of North American Printmaking. 1947-2007.
Read the Artist Statement for the Library of Congress.
Desire: Color Stone Lithograph with Hand Coloring. Embossed.
Size: 17.75" x 24.5 1986 Edition 35